* The centers
* Children supported
* SEED's impact
* Our needs
I. The project
We have spent several days with the children from the SEED association in Madras suburbs, and now we interview Palamisamy, the founder of the association.
1. Why SEED ?
I created SEED in 1982 in order to insure shelter, food, education and vocational training to children in difficulties. Their parents have been sentenced to life imprisonment, and the children have neither belongings nor family to take care of them. The rules have sometimes been bent in order to admit orphans and poor children whose parents suffer from serious disease or leprosy.
Our efforts have been acknowledged by the government : it has widened its financial help to SEED and allowed the organisation to establish an institute for technical training, in 1997.

2. HOW DID YOU GET THERE ?
I was born in a remote village in the Trichi district. I was the sixth of an eight children family, my mother was the one who provided for us with the feeble income she got selling coconuts and breeding two cows.
I successfully studied physics at the Presidency College in Madras while working part-time as a household help. I also took a degree in sociology, political science, public administration and education, in addition to a law degree. I then found employment as a clerk in Canara bank, while continuing my educational work and my activity with the oppressed.

Under the influence of Gandhi's life and instructions, I put effort into public service so as to improve the situation of the poor of this society. However, I particularly focused on the children who lived in difficult conditions, in shantytowns.
I spent some years with groups of sweepers, organising classes for their children. I also created the "Scavengers Welfare Centre", a training centre for unemployed women.
At that time I met a lot of children whose families were split, and which I wished to reunite. It was then that I met Padian, a prisoner sentenced to life in Madras prison. He had been wrongly implicated in a murder case by a politician in his village, and imprisoned. He asked me : "Even sweepers have to feed their children one way or another, but who is going to take care of my children ?" So I decided to create SEED, with my wife's active support.
II. The organisation.
1. PRESENTATION OF THE SEED CENTRES.
SEED Center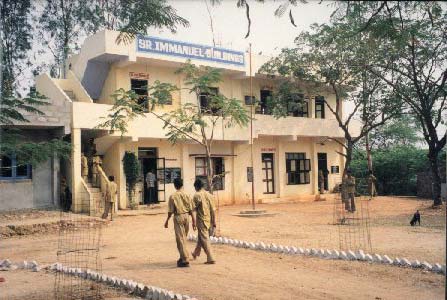 SEED takes care of 300 children, dispatched in 3 centres.
* Sriperumbudur (107 children)
This centre is run by Gnana Sambathan and consists of 3 buildings :
1. "Mahatma Gandhi Primary School", where 5 teachers work.
2. "Ceyrac Home", where 4 "house mothers" work, having charge of 25 children, one cook and one caretaker.
3. A centre for technical, mechanics, and electronics training for women which will accommodate 40 students (opening in June) ; it will be headed by M.P. Basharen. This centre will have two classes of 20 female students, and a laboratory will be operated alternately with theoretical courses.

* Ukottai centre (60 children)
This centre functions around the "mahatma Gandhi School". SEED employs 5 teachers, 2 "house fathers" and one cook in this centre.
* Irungattukottai Project. (120 students).
It is a centre for training in electricity, mechanics, dressmaking and weaving, headed by Dr J.C. Kumarappa. 8 teachers are employed there.
2. Catégorie d'enfants pris en charge.
SEED supports children who are socially, economically and scholarly oppressed ; more especially, children of life-time prisoners or lepers so that they do not become in their turn criminals, offenders or beggars in a reaction to society's hostility.
Group of children supported.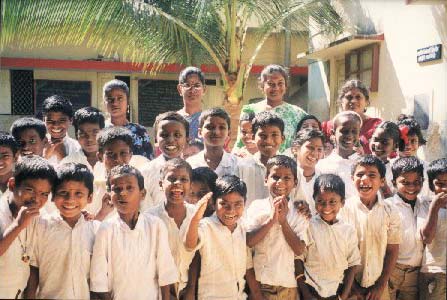 There are 4 categories of children supported by SEED :
1. Children of life time prisoners
2. Children of lepers, beggars and people moved from one place to another (Bombay, Delhi, Nepal…)
3. Children of people suffering from serious disease like cancer, tuberculosis…
4. Dismissed children who have lost the right to their parents' dowry.

III. SEED's action.
(words from Palamisamy)
The government allowed me to go to the 8 central state jails and meet the prisoners in order to convince them of the necessity of our help. After the gathering of the necessary information, I check their truthfulness with the authorities. Then, I go looking for the children.
Some people ask me why I do not take the children of ordinary offenders. But when they come out of jail they systematically wish to take them back ; now, we need a minimum 15 years education, especially moral, and affective support in order for the child to become a responsible citizens ; our efforts would then be fruitless.

| | |
| --- | --- |
| Class on motors | Children revising |
The children follow a strict time table. They wake up at 5am, pray, attend yoga classes, clean up. Daily prayers are limited to Hinduism, Christianity, or Muslim religion. After breakfast the children go to school. The eldest go the village school or to Ukottai, while the younger ones stay at the Mahatma Gandhi primary school in Spriperumbudur. The children are dispatched in different groups and have to perform some household tasks. Some go for water to the well or the neighbouring river, the others help with the upkeep of the house and garden. Each boarder also attends a vocational training class which will help him when he leaves. Each house is run by "house mothers". Particular attention is given to "difficult" children, which is the main reason why we have our own school. Indeed, these children cannot be given all the necessary attention in a regular school.
1. Impact on the children.
| | |
| --- | --- |
| Outdoors class | Cricket session |
Palamisamy explains that SEED allows the children of prisoners to acquire self-confidence and to come in terms with themselves without rejecting their parents.
Although the children are given food and shelter, they nevertheless act for the others ; hence the success of our action. The global situation of our country has it that the parents provide food and shelter to their children. However, with SEED, the children will be the ones to provide for their parents when they come out of jail. Because of the educational orientation of our organisation the Tamil Nadu government gave us special authorisation to meet the prisoners so that they allow us to make decisions concerning their children. The parents were also given authorisation to live with their children 10 days a year. Through SEED, we want to change the status, the living conditions of unprivileged children so that they gain confidence, self-sufficiency and self-respect.
2. Impact on society.
Following the work achieved at SEED, supporters of our action served as representatives in each district of Tamil Nadu. They are like a bridge between SEED and the prisoners or lepers, and they send the needy children to us.
Moreover, youngsters in the surrounding villages take part in computing classes, while the women take part in dressmaking classes. 50 women coming from Poonamalee, Sriperumbudur and Walajabad, in the Kacheepuram district, take part in our chemistry and mushroom growing work. With no further publicity, our technical training centre attracted numerous poor children of the state (dismissed, abandoned and socially handicapped). To finish with, some people doing drugs in the surrounding villages have stopped drinking and chosen another way thanks to the statements of our children on the "dangers of alcohol". Due to the advice or letters coming from their children living at SEED, some prisoners regret their murderous act. Leprous parents are beginning to change their way of life, going from beggary to a decent job thanks to their children's behaviour and advice.

3.Sign of success
More than one thousand children have left the centres not only with a degree but also with a training in fields like electronics, dressmaking, etc. Thus, they found job opportunities in small companies, hardware shops, chemist's shops… They are therefore able to cope, help their family and their imprisoned parents. 10 children have completed their technical training and found a job in good firms. 3 children became mechanical engineers and work in big industries, very renowned in India. 2 children have been selected by Hyndai Motor Co. And work for them. One child took the tests to enter the army, and passed. He sent his first month's salary to SEED. SEED was nominated best development project for the children in India by the India Rotary in 1995, and received a Gandhi National Award for its educational action for unprivileged children. Numerous children have also be given awards by the State, the District in fields like songs, drawing, science, etc.
To finish with, we may retain 5 indicators of the success of SEED :
§ The children's good results at their exams.
§ The children's good performance at extracurricular activities : debates, acting, singing, quiz…
§ The children's participation in students literary associations ' meetings, once a week.
§ The co-operation of prison authorities and parents in the attainment of our goals, so that the children may in the end come to terms with themselves and help their families.
§ The staff's enthusiasm regarding the success of the work achieved at SEED.

The children's lunch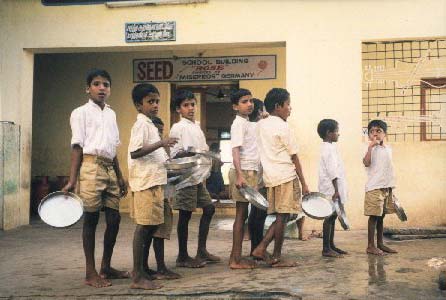 V. 1998-1999 budget.
Income :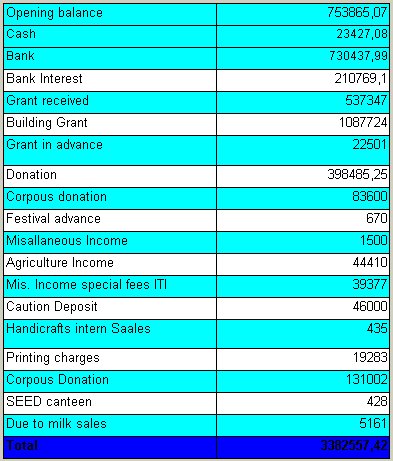 Expanses :
VI. Expected and received assistance.
1. Financial aid
The department of health of Tamil Nadu's government granted us 200 rupees per child, for 100 children ; this grant includes the staff's salary. The German Leprosy Relief association granted 200 000 rupees for lepers' children, including food, clothing and medicine expanses. The Indian Bank gave 100 000 rupees for the children of life-time prisoners, lepers and the victims of crime. The "Grand Charitable trust" (U.K.) gave around 200 000 rupees to support SEED's activities. We are still looking for donators for the High School. However, we received help from :
* The Indian Overseas Bank, who donated 30 000 rupees to buy the necessary tools and instruments in the technical training institute.
*The State Bank of India, who donated 707 700 rupees to buy machines and equipment for the technical training institute.
*The Canara Bank, who donated 100 000 rupees as a basis for the instructors' pay.

As for administrative expanses - to ensure the children's education, for the training in agriculture and horticulture, to provide for the centres' infrastructures-we are still looking for donations.
2. Supportive actions.
The Surrounding Community took part in all of SEED's activities, they notably donated the Sriperumbudur field on which the project was established.
The Irungattukottai field was donated by the "Canara Bank platinum jubilee rural development trust".

Check-ups are regularly organised by the Sri Ramachandra Medical College and the hospital for the children from SEED and the surrounding villages.
The children are provided a meal, consisting in rice and corn collected by the Rajasthan Youth Association.
The community provides unused, usable medicine and vitamins. It helped us have access to drinking water, electricity, acquire a cooker and ensure sewage drainage. The community also provided uniforms and used clothes for the children, it also participates in the buying of books and notebooks at the beginning of each academic year. Devoted youngsters from the community serve as tutors for SEED students after class. The Canara Bank donated a printing press in order to ensure a training in printing. To finish with, IIT students from Chenai ensure a training in computers technology to the students of the SSLC.

VII. Needs and goals for the future.
1. Needs
Despite all this, SEED has its share of difficulties. Clearly, the help coming from the government and a few NGOs is not sufficient. With more significant funds and sponsors, we would be able to perform wonders.
2. Goals.
I have numerous projects in mind for the future, notably to save the state daughters of prostitutes ; should they go on living with their mother, they will end up the same. However, this is no easy task, their case being so different. I'd rather go slowly and bring my current project to a successful conclusion.