* How support forgotten children
* First support : widows
* Second support : young women
* Figures
* To help us
" It is a chain of children or groups of children, all across Tamil organised with minimum structures and expanses. Rather than an organization, it is a movement of children that he manages to hold with his only presence and great love of children. Some might find it very disrupted, it certainly is not a traditional or conformist approach… It is diametrically opposed to the "traditional" orphanages formula, which may become a desert of love where children can hardly blossom… . Of course, there might be disorder and frailty, the disorder and frailty of life…." (Father Ceyrac)
I. THE PROJECT
1) At the beginning, in 1993…
The Father Ceyrac among children from Singanur.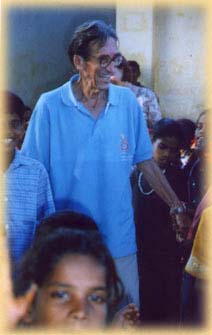 Two priorities:
Smile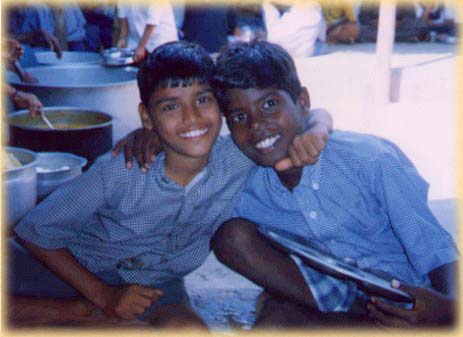 "We had only two priorities. The first one was to give a child what he needs most and most of our children never experienced: the feeling of being loved. The other priority was education. India has a huge number of children labourers: 20 millions, according to official sources; the actual number varies from 50 to 100 million children labourers out of 500 million children in India. This is a very difficult problem to solve. Suppressing such habits immediately is impossible: consequences would be tragic for the poor families, and more particularly widows. We propose an intermediate solution: let the child go to school in the morning, and work in the afternoon, or vice versa. But we reject any hard work, be it in a factory or anywhere else. This is not an easy way out, but we really insist on the fact that all our children, without any exception, should enrol in a communal or Christian school. In addition to this regular schooling, there are one or two supplementary classes every evening thanks to the help provided by young girls to the children. These repetitions build the unity of our movement." (*)
(*) Pierre Ceyrac, Pèlerins des frontières ( p 111-116), Editions du CERF
2) The project today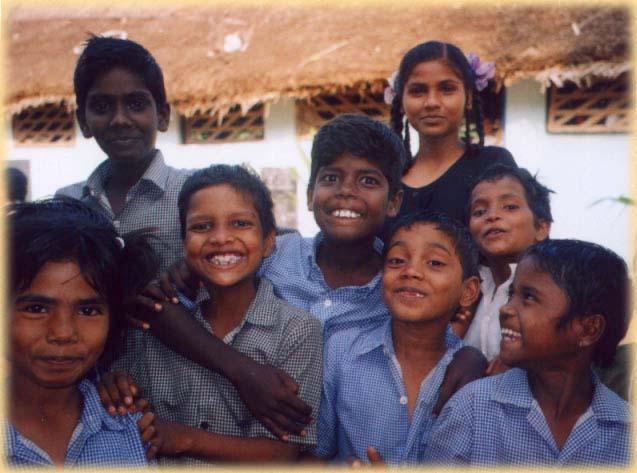 | | |
| --- | --- |
| States | Tamil Nadu, Andhra, an Mumbai, Raipur, Madhya Prdesh, Kerala, Karnataka |
| Number of centers | 130 |
| Location | villages and slums |
| Number of children supported | 30000 |
| Number of children completely taken care of | 4000 |
| Number of young girls in charge of educational support | 500 |
3) The children
Children from Siganur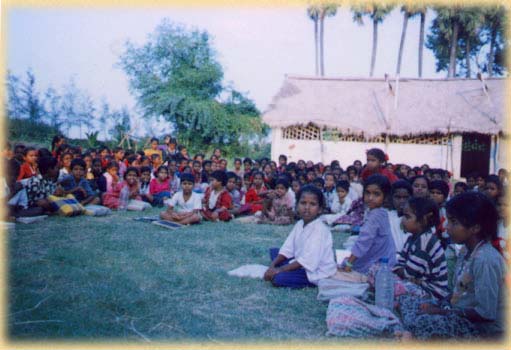 The Opened Hands movement helps all the abandoned children and pupils of poor families regardless of the caste, colour, religion, or language. Children come mostly on their own will after having heard of the movement.

Nowadays, this movement - since it is not an orphanage- concerns 30 000 children totally. Each child gets help according to his/her situation. The aid given varies: food, clothes, housing, medical care, schoolbooks, school fees, educational support.

Time for lunch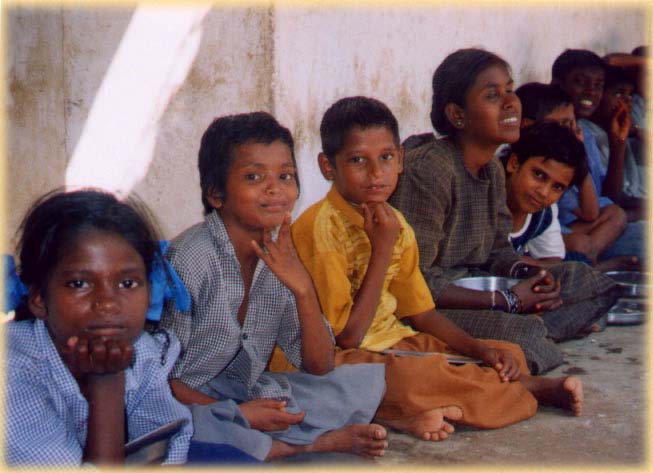 Type of aid provided according to the children's situation:
| | | |
| --- | --- | --- |
| Aid level | Children's situation | Number of children |
| Payment for 3 meals, clothing, school uniforms, school books, medical equipment. Evening classes. | Orphans; prostitutes' and handicapped parents' children. | 4 223 |
| Payment for 2 daily meals, schoolbooks, school uniforms and evening classes. | Children - only one parent is alive | 1 986 |
| 2 monthly meals, evening classes. | Poor children. | 24 081 |
1) Women's network
The widows and unmarried girls are in charge of the children's education and supervision.
Indeed, the widows' situation in India is often very difficult. Those who remain at home to take care of the children don't have any money to feed them; those who choose to work cannot take care of their children. This system saves the children and helps the widows to regain their maternal dignity.

"The second pillar of this structure is the young girls. Due to lack of resources, especially in the villages, many of them cannot go to the university after completing college. They remain at home until they are married! Here, they prepare the orphan's meals, help them do their homework from 6 to 8 p.m. and get a small allocation. A big advantage of this system is to provide the children with a feminine presence, to offer the young girls a little bit of money for their future dowry, without which marriages are impossible in India. The greatest advantage is that they discover freedom they haven't had, a useful experience and friendship throughout the Tamil region. Also, they meet monthly during short sessions that enable them to share their experiences." (*)

Lunch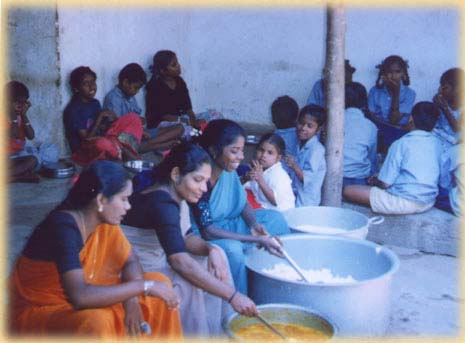 Two women are in charge of each group of five villages. Their work is to check the children's arrivals and departures, their school levels, and to coordinate work in the villages they are in charge of.
" This way, not only do these two infrastructures save women but also contribute very efficiently to woman's liberation!"
Young girls' functions and salaries:
Function

Salaries

In charge of the evening classes from 4 to 7 p.m.

250 Rs

In charge of children in the morning, from 7 to 8 a.m. and of the evening classes.

300 Rs

In charge of the children in the morning, from 7 to 8 a.m., of the evening classes and works with the widows.

500 Rs

In charge of children in the morning, from 7 to 8 a.m., of the evening classes, supervises and manages the widows of 5 centres and works with them.

600 Rs

Full time in charge of a center, manages the teachers staff and supervises the widows in 5 villages.

800 Rs

- A district coordinator (more than 10 villages), who sometimes visits the other Tamil Nadu centers
- An accountant

1500 Rs
2) The spirit of Ambukarangal.
"This spirit leads to the children's development, widows' rehabilitation and the training of young girls who will become real animators or even catalyst of change in their village. It is priceless for a child to perceive a feeling of love and be lucky enough to be fed or be able to study. It is so important for a woman left alone to to be given the opportunity to breed decently her children and to love and protect other. It is such an accomplishment to feel recognised as a person able not only to live independantly but also to take care of many children and bring life to a village for a young woman whose studies have been shortened by lack of money and whose familial situation will not make another mariage possible.
These are the very ideas that appealed to us, it is also for them that nothing must stop.

(Valuation and support mission to the Indian association Ambukarangal, Father Ceyrac Children's Trust, 1997 Mission Report)
III. EXPENDITURE FOR THE FIRST SEMESTER 2000 (JANUARY-MAY 2000).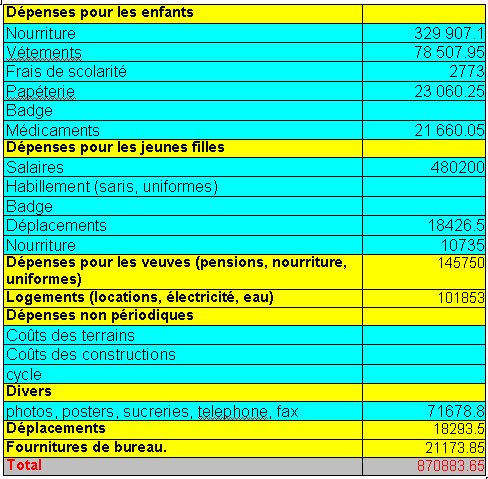 §Non certified teachers only earn 250 RS a month and we dont have the means to increase this salary.
Like the children, they live in precarity.

§We cannot visit all the centers. Villages are often far away which makes any checking difficult.

§Children often live far from their school and have to walk (sometimes 6 miles a day).

§ Even in centers deprived of housings for accommodating the children, like Pelakuppam, living conditions remain very poor. Indeed, during the rainy season, water keeps leaking and children are unable to protect themselves. Moreover, the sewage evacuation system doesn't work properly and causes serious sanitary problems.
1) Material needs:

§ A more performing computer system.
§ Construction tools
2) Human needs

§ A computer specialist, in order to improve the young girls' knowledge in this domain.
§ A doctor providing girls with a medical training, especially as far as hygien is concerned (to teach them basic hygien rules they have to teach the children : hands washing, clothes washing, basic cares, garbage treatment..)
3)Financial needs

§ For the children's medical care
§ To buy items related to the children's health and hygien
§ For the teachers' wages
§ To buy vehicules, maybe a minivan for the children

§ Sale of mancraftship
§ Organisation of sewing, computer and photography classes
§ Creation of a farm.